Azure Managed Services | Digitalokta
If you're planning on moving, or have already moved, any aspects of your current IT infrastructure to the Microsoft Azure cloud, the team at Digital Okta can help. We can provide expert advice on transitioning to Azure, we can procure and bill your usage at the same cost as going directly to Microsoft, and we can also provide ongoing management of your new cloud-based infrastructure.
Is our Microsoft Azure Managed Services right for you?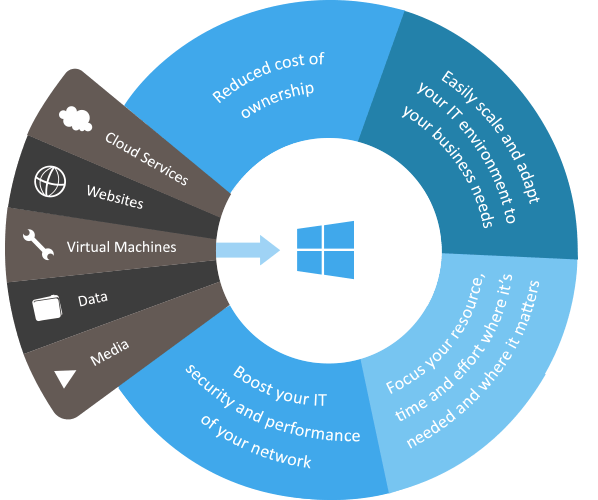 What Is Microsoft Azure Managed Services?
Microsoft Azure is a growing collection of integrated cloud services that developers and IT professionals use to build, deploy, and manage applications through a global network of data centres.
With Azure, you get the freedom to build and deploy wherever you want, using the tools, applications, and frameworks of your choice. It also connects cloud and on-premises with consistent hybrid cloud capabilities, and uses open source technologies—to drive maximum portability and value from your existing investments.
When you choose Microsoft Azure, you're also choosing a public cloud service that has a great amount of flexibility – with additional products that can be added on.
With Digital Okta Microsoft Azure Managed Service, we can provide recommendations about the cloud service that is right for you, can get you set up in the Microsoft Azure cloud, and can then manage it for you on an ongoing basis.
We start out by designing your Azure requirements and then setup your subscription, if one does not already exist. All Azure usage charges are billed monthly to you by Digital Okta at no additional cost to purchasing directly from Microsoft.
Once you are set up, we then provide a range of project services to implement into your environment. You receive direct access to your Azure portal, and we run constant and proactive monitoring on your environment to prevent downtime and minimise risks.
How Can It Benefit Your Organisation?
We can add value to your business by providing:
Time and cost savings – Rather than recruiting internally for a Microsoft Azure specialist, you can leverage Digital Okta's team of cloud engineers who can design, deliver and integrate Microsoft Azure for you.
Cloud consulting and readiness – Our team of Microsoft Certified experts will architect a customised infrastructure based on Digital Okta and Microsoft best practices.
Integration – Our cloud team can integrate Microsoft Azure to your existing infrastructure, whether you are on cloud or on-premise.
Solution architecture and design – We can architect a scalable solution designed on best practice.
Migration and deployment – Using a range of industry leading tools, we can ensure the migration of your data with minimal to no disruption.
Reduced risk and expertise – As a true managed services partner, we provide ongoing monitoring, management and proactive notifications to reduce your risk of downtime, all backed by Service Level Agreements.
Hybrid cloud - We give you the flexibility to scale to workload variability through easy hybrid cloud integration and management between hosted private, on-premises and Azure environments.
Azure Managed Infrastructure Services
Installation, configuration, maintenance, and yearly renewable support.
Remote management of the operations, with a service level agreement covering L1 (Service Desk, Online Support), L2 (Administration and monitory), and L3 (Change Management, Vendor Escalation).
Best Practice in IT Operations [ITIL/ISO 20000] and IT Security [ISO/IEC 2005-27001].